29 Vegan Pantry Recipes
So at this point many of us are ready for quarantine to be over and for things to go back to "normal". This unprecedented time has had many of us in the kitchen more than ever. A few people have sent us messages stating they wanted to make more plant-based meals. Instead of creating recipes that require us to make another trip to the grocery we curated 29 recipes that use common ingredients found in our pantry.  Check out the recipes and add a few to your meal plan.   CLICK THE IMAGES FOR THE FULL RECIPE.
Healthy, 3-ingredient banana peanut butter oatmeal cookies. No refined sugar. No flour. No baking soda. This includes 3 variations: chocolate chips, raisins, and cocoa powder. Perfect for a quick snack or for an on-the-go breakfast.
This Vegan Mac and Cheese Sauce is easy, creamy, veggie-packed, and ready in 20 minutes. If you're looking for a pasta sauce that is vegan (dairy-free and egg-free), gluten-free, nut-free, and oil-free not to mention delicious and nutritious, you might want to read on. No cashews here, so I dare to say that it is also quite budget-friendly.
Easy Mexican Pasta Salad 
Easy to meal prep and make-ahead. Homemade Spaghetti O's - Kick the can and make this healthy recipe for the kids instead! Homemade Spaghetti O's that are allergy-free, gluten-free, and vegan! A super easy lunch or dinner that's kid-friendly and mom-approved!
Easy Gluten-Free Mexican Pasta Salad (Vegan, Allergy-Free)
This vegan chili recipe will delight your taste buds. It's not only wholesome but delicious and easy to make. A vegan twist on this classic comfort food makes for a healthy dinner packed with nutrients brimming with flavor!
Garlic rice is one of the easiest rice-based recipes you can prepare! Enjoy vegan, gluten-free Instant Pot Garlic rice.
The Best Vegan Bolognese 
All you need is 20 minutes and a love of Italian food with this vegan Bolognese. Gently simmered with classic Italian herbs, fragrant garlic, and roasted tempeh "meat" this is sure to become your favorite vegan spaghetti sauce!



Creamy Vegan Baked Polenta

This creamy vegan baked polenta is easy to make, hearty, and delicious. It's gluten-free and made from simple pantry ingredients.


Vegan Gluten-Free Peanut Butter Cookies

These peanut butter cookies are vegan, gluten-free, and refined sugar-free. They're easy to make and have the perfect balance of salty and sweet.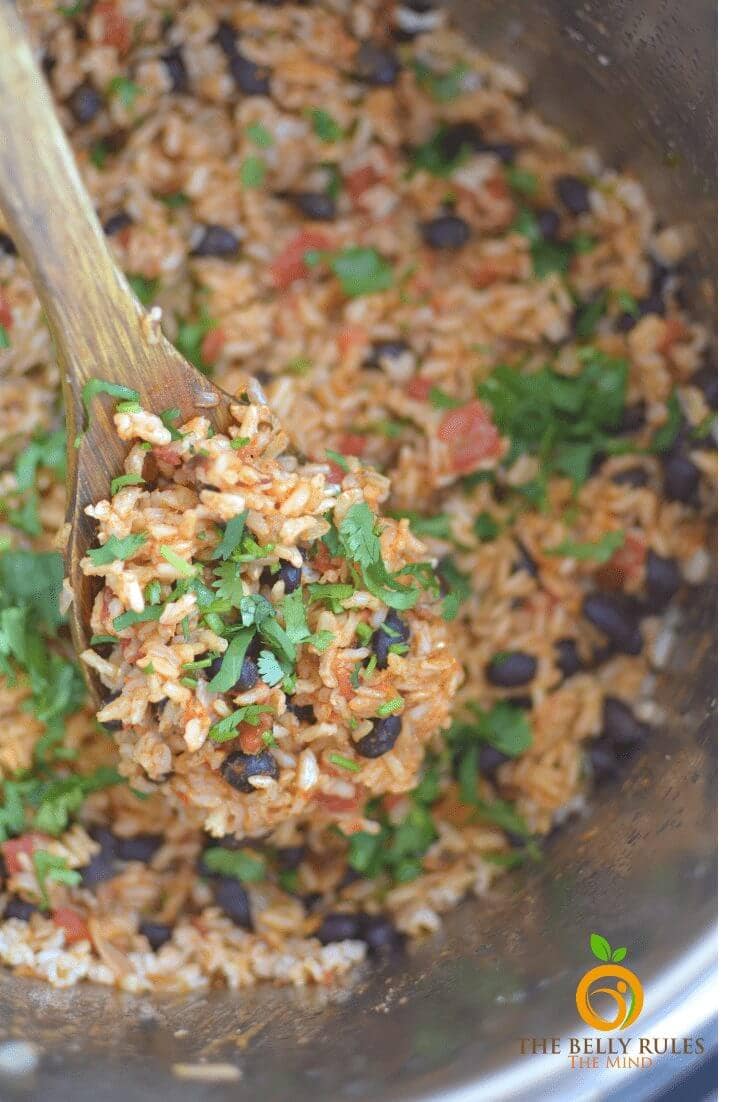 This delicious Red Lentil Dahl recipe is ready in just 25 minutes in 1-pot! This tasty Indian curry recipe uses dried red lentils, canned coconut milk, canned tomatoes and if you don't have spinach you can leave it out or swap it for frozen or canned.
This Indian style Vegan Instant Pot Black Eyed Peas Curry Recipe is an easy and delicious preparation with readily available ingredients in your pantry.
These Spanish beans with tomatoes and smokey sweet spices are so easy to make in one pot in less than 20 minutes with just 7 ingredients including canned beans and canned tomatoes. If you don't have spinach, leave it out or swap with frozen or canned spinach. 
VEGAN PASTA E FAGIOLI [OIL FREE + INSTANT POT OPTION]
Just omit the chives for pine nut "cheese" pasta straight from the pantry. You can add canned vegetables, or even use legume pasta for higher protein.
Easy, flavorful, and packed with plant protein, these sesame chickpeas are a vegan chickpea recipe that is a quick and delicious dinner the whole family will love. It's ready in just 15 minutes and is great for meal prep for the week. Plus, it's totally kid-approved! 
This red lentil dal is gluten-free, vegan, ready in 30 minutes, and requires only 10 ingredients. it's a pantry staple meal that is even freezer friendly! 
Simple, budget-friendly, protein-packed pantry staple chickpea and beet burgers which only require 6 ingredients, and that taste amazing 🤩 They are so easy to make, take 5 minutes to prep and a food processor, and they can be pan-fried or air-fried for two different but equally palatable culinary experiences.
Vegan Lentil Ragu
Red Lentils – Instant Pot & Stovetop (Masoor Dal)
Cannellini Kale Noodle-y Soup
Vegan Tiger Masala